EMERGENCY SERVICE AVAILABLE SEVEN DAYS A WEEK.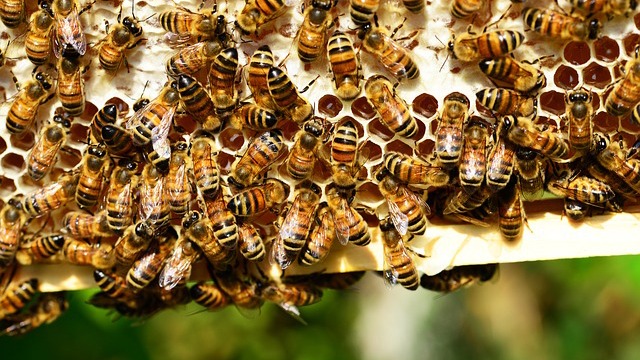 Both Bees and Wasps are social creatures, then create colonies for productivity and protection. A beehive is an enclosed structure in which some honey bee species of the subgenus Apis live and raise their young. Natural beehives are naturally occurring structures occupied by honeybee colonies, while domesticated honeybees live in man-made beehives, often in an apiary. These man-made structures are typically referred to as "beehives".
Several species of Apis live in hives, but only the western honey bee (Apis mellifera) and the eastern honey bee (Apis cerana) are domesticated by humans. Natural beehive is comparable to a bird's nest built with a purpose to protect the dweller.

The nests of some social wasps, such as hornets, are first constructed by the queen and reach about the size of a walnut before sterile female workers take over construction. The queen initially starts the nest by making a single layer or canopy and working outwards until she reaches the edges of the cavity. Beneath the canopy she constructs a stalk to which she can attach several cells; these cells are where the first eggs will be laid. The queen then continues to work outwards to the edges of the cavity after which she adds another tier. This process is repeated, each time adding a new tier until eventually enough female workers have been born and matured to take over construction of the nest leaving the queen to focus on reproduction.
EMERGENCY SERVICE AVAILABLE SEVEN DAYS A WEEK
415-385-1061 or 650-773-9870
Office Hours
Monday 7:00AM-7PM
Tuesday 7:00AM-7PM
Wednesday 7:00AM-7PM
Thursday 7:00AM-7PM
Friday 7:00AM-7PM
Saturday 7:00AM-7PM
Sunday 7:00AM-7PM
OR CALL US NOW 415-385-1061